Greek Classics for Children
Ancient Greek Civilization Resources
Any study of ancient history would be incomplete without a stop in Ancient Greece.


Why Study Ancient Greece?

Western Civilization owes a great debt to this ancient society --the seeds of democracy, mathematics, philosophy, theater, and art.
The great classics of this period, including the Greek myths,
The Iliad
, and
The Odyssey
, have remained foundational works of literature for hundreds of years.
All educated Westerners should be familiar with these stories since so many other works of literature and even
our very language include allusions to them
.
There are a lot of great resources for studying Ancient Greece. I've compiled the best ones here. Some are free, online things. Others are retail. But the good news is that many of them are in the public domain and FREE. Whether you want a living books approach or want to make a lapbook (or maybe both), you will find some excellent materials hidden in the links below./ul>
Living Books for History
About Ancient Greece
History is an amazing subject. It can be made deadly dull or wonderfully thrilling depending on the approach taken.

Using living books and biography to teach history makes these foreign, ancient civilizations come alive. Children may not have the maturity to comprehend political movements and philosophical paradigms, but they certainly can understand and remember a good story.

Teach children about Ancient Greece through the stories of this time — about gods and goddesses and about heroes and kings.
Notebooking Pages Ancient Greece Set
retail
Notebooking Pages has a wonderful set of 240 Ancient Greek pages covering people, places, and events in a variety of notebooking layouts.

Buy the pages directly from Notebooking Pages or from Currclick. Below are examples of Alexander the Great pages from this set which my daughter used in seventh grade.
Free Printables About Ancient Greece
for notebooking or lapbooking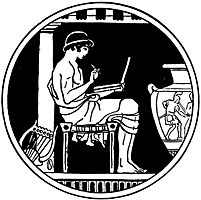 Here are some of the best free printables on the Internet. Examine which ones would fit well with your unit study.
Design a Greek pot online and print it out!
A unit study about Ancient Greece with suggested books, activities, writing assignments and more. Scroll down to the bottom of the page for PDFs of shape books, notebooking pages, and worksheets.
Look for Ancient Greece freebies in the ancient history section such as
Legend of the Trojan Horse and The Rise of Athens and Sparta.
Several attractive, lined papers for notebooking and some printable Greek coins!
Quite a few images from theater masks to women to warriors.

Look at the menu to the left side -- Ancient Past/Greeks -- for a plethora of public domain images, many suitable for coloring pages.
Nice coloring pages for many Greek gods, goddesses and heroes.
Notebooking Pages offers these free Greek alphabet strips in both upper case and lower case!
Wow! This is an amazing FREE resource --"Digging Up Greece" is a super high-content game about ancient Greece! The game board is a giant map of Greece, artifact cards show actual artifacts and ruins, and (multiple choice) question cards quiz you about ancient Greek history and culture. Multi-level play lets beginners play against those who've already studied Greece.
Several Ancient Greece notebooking pages designed by a homeschooling mom: Trojan Horse, Plato & Aristotle, Alexander the Great, Phillip 2 of Macedonia, Peloponnesian War, Pericles, the Golden Age of Greece, and Socrates.

Paper Dali (named after the great artist Salvador Dali) offers incredible FREE black and white paper doll templates to save, print, and color. Use these for narrating the great books you read aloud or for lapbooking or notebooking.
This site is in Spanish, but you can easily figure out what myth is being referred to. Look at the list on the right side for some cartoon style coloring pages of Greek Myths.
Free printable doll plus five outfits from Liana's Paper Doll Blog.
A lovely coloring page of a Greek woman in profile.
Topics include Aesop, Greek Gods, Homer, Pythagoras, Athens & Sparta, and the Trojan Horse.
A complete unit study plus lapbook templates.
A unit study for elementary level about 12 gods and goddesses on Mount Olympus. This 40+ page PDF includes lesson plans, worksheets, puzzles, hands on activities, and more.
Medusa, Apollo, a hoplite soldier, ancient coins, and more.
Daisies and Dominos blog offers this very attractive PDF full of printable templates.
Ancient Greece Lapbook
First Grade
We love to use lapbooking in homeschool. It's a great way for creative children to record what they have learned. The slideshow below has pictures of my daughter's first grade Ancient Greece lapbook.

For ideas when planning your own Ancient Greece lapbook, look at this PDF from Mr. Mepham.
For more lapbook pictures, visit
Ancient Greek Art
Free Printable Notebooking Pages
If you're studying the art of Ancient Greece, these three sets of notebooking pages will be an asset to your curriculum. These free printables are offered by The Notebooking Fairy.

General art pages plus one page to outline the four historical periods of Ancient Greek art.
The Acropolis of Athens is the main focus on these architecture pages.
This final set is about Greek pottery and sculpture.
History Pockets
If you would like a little nudge toward lapbooking or notebooking Ancient Greece, look at these History Pocket reproducibles. Evan Moor products are high quality with attractive graphics and rich factual content.

Need something NOW? CurrClick offers immediate downloads of ebooks -- unit studies, lapbooks, and notebooking pages, and Evan Moor's History Pockets.
For a peek inside the books, visit Google Books. (Books can't be saved or printed. This is for preview purposes only.)
Greek Myths
Your study of Ancient Greece should include stories of at least some of the major myths. If your children are like my daughter, they will want more and more of these fanciful tales.

If you are a Christian struggling with whether or not you should teach myths, read these articles:
The Loom from Tapestry of Grace
Thoughts by bloggers:
Lexi on Christians teaching myths
Kristi on mythology.

The following four books are great choices for beginners to learn about Greek mythology. Two of them are free and in the public domain.
Gods and Heroes
by Robert Edward Francillon
The Baldwin Online Children's Project has dozens of texts in the public domain that relate to Ancient Greece. I will highlight a few of the more popular ones. But you can find the entire list here.

Public domain text for Gods and Heroes can be found at these sites:

1. The Baldwin Project

2. Archive.org

3. Google Books

The Heroes, or Greek Fairy Tales for My Children
by Charles Kingsley
Iliad for Boys and Girls
by Alfred John Church
A Story of the Golden Age of Greek Heroes
More Free Public Domain Books
About Ancient Greece